I wanted to highlight some important posts from last year–in case you didn't catch them the first time around–here is the right advice to support your job search in the Food & Beverage industry.
Best advice from FoodGrads
What do you want?
Your feedback is so important to us, we want to make sure we are providing you with the information you need and want! We are always going to provide a variety of content because we know how broad and diverse the industry is–different products, new technology and innovation as well as diversity of the people who will make up the new generation of the food industry–we're here for ALL Food Grads and ALL career options.
'Soft Skills' is a term we know many college and university professors/councilors are using because they are being told by employers that new grads lack them and its creating an issue in the hiring process (regardless of the position, it seems to be universal). A gap exists between school and industry, and if these 'soft skills' are stopping you from getting hired, that's a problem.
You need to work on your 'Soft Skills'
What are soft skills? You can't work on something if you are not entirely sure what it means though, and more importantly what it means to employers in the Food & Beverage Industry, right? We're gonna break it down for you, step by step and fill the gap! Stay tuned.
Still thinking about Graduate school?
Don't miss the Graduate Series from My Food Job Rocks! podcast.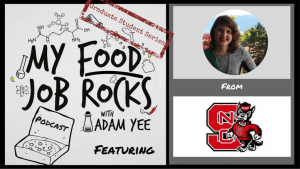 Let me know your favourite post(s) from above. Is there one that you enjoyed but wanted us to elaborate further? Easily fixed…just let me know! Please share with your friends if you think they will benefit from this advice.
---
Students/Grads: Create your FREE profile to 'get found' by employers, access skill development & training, advice from industry pros, apply to jobs to start your career and join a niche food & beverage community, the future of the food industry
Employers: Learn how a subscription to FoodGrads can benefit your organization, unlimited job posting, on-boarding program, branding, a small investment for a big future!
College/Universities: Learn how a subscription to FoodGrads can benefit you. Engage your students and bring attention to your programs.